The Tall Ship was part of the original Australia's Wonderland logo and was the centerpiece of the park.
The ship, a make-believe version of the tall vessels that first moored in Sydney Cove nearly 200 years ago, was 18 metres long and had masts 20 meters high. The Toohey's Tall Ship, as it was originally known, cost $350,000 and took six months to build back in 1985. It was the fantasy stage for an action-packed pirate show five times a day. And the day it arrived at the park on a cold late-winter morning in 1985 was action-packed itself.
At 4 am it left its 'home' in Granville and 'sailed' down the Parramatta Road.
In the pitch black it tacked down the highway, reaching the park at dawn.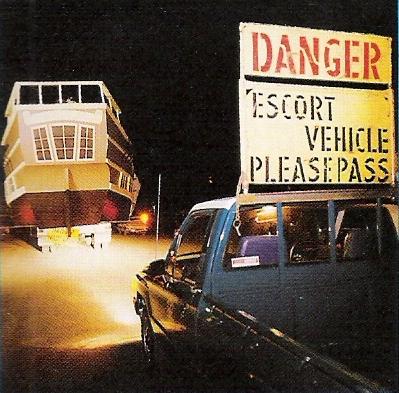 Nervous park staff and curious contractors watched as the ship was gently eased from its two giant semi-trailer beds with one of Australia's largest cranes into Endeavour Bay, just inside the entrance to the park in the Medieval Faire area.
28/03/1985
The concrete base for the Tall Ship is in place, the man made lake has no water in it yet,



16/04/1985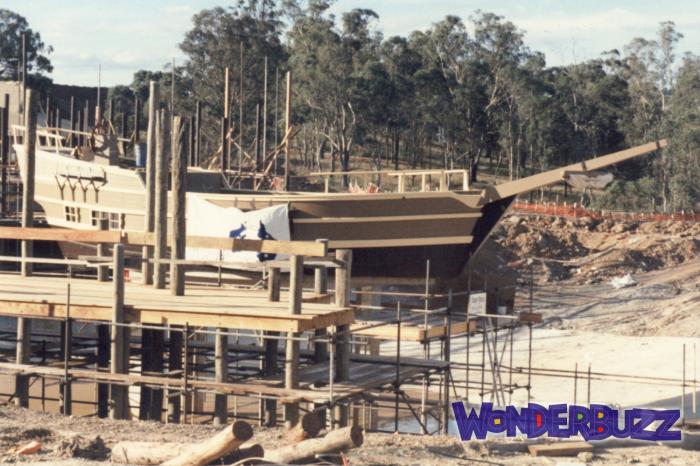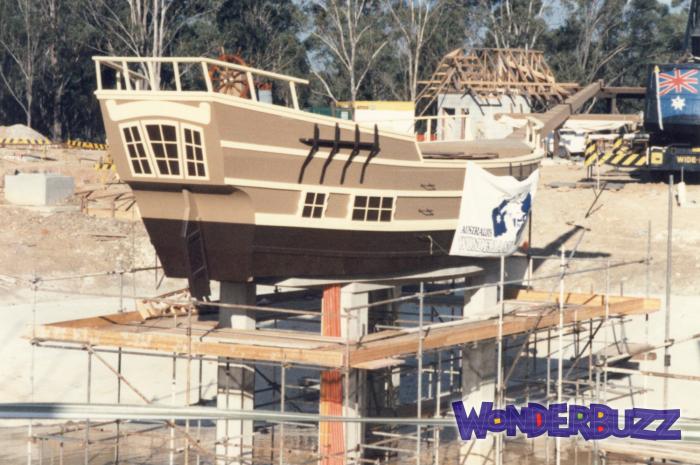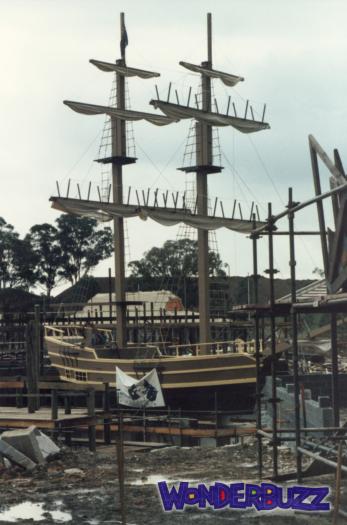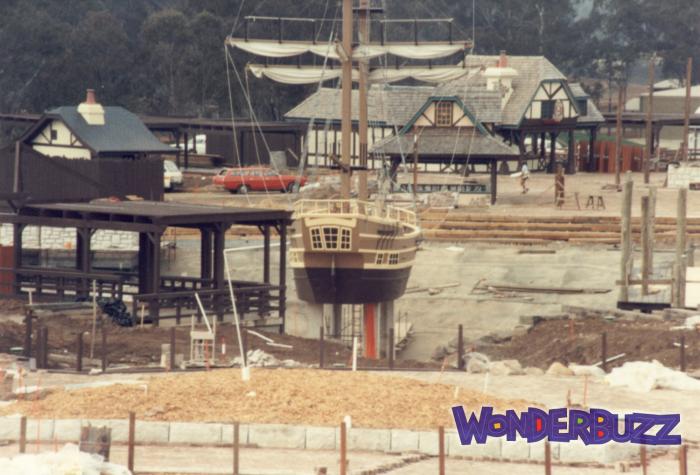 A successful launching — all it lacked was the champagne.
It strikes you even before you're inside the gates, with its 20 metre high masts dominating the skyline.
Every day an acrobatic pirate show took place on the ship, with today's Blackbeards springing from the hidden trampolines in the deck on to the special rigging, or using the catwalk yardarms from the mast to spring on to
an enemy.
About 5000 park visitors are able to watch the show from terraced seating around the Bay or from the three restaurants overlooking the action and the other observation areas.
And will they see some action!
The Buccaneer features cannon that set off water spouts - it all looks and sounds like the real thing.
The pirates are all skilled acrobats and athletes.
Their vivid swordfights high above the water and the spectacular plunges from the masts to the deck or the water will live on in your memory. And be warned, some of the meaner characters might just try to row ashore and kidnap the young spectators!
All in all, it's the home of the world's most spectacular stunt shows.
Opened: 1985
Closed: October 2000 to make way for the War on Water show.
They cut the ship up and used a crane to lift the pieces out. They used an oxy torch to cut some of the metal and in the process the mast caught on fire.